Love Kaiteri - Sustainability Project
Kaiteriteri is one of New Zealand's most beautiful places, a place we all want to protect for future generations to enjoy.
Regenerative Planting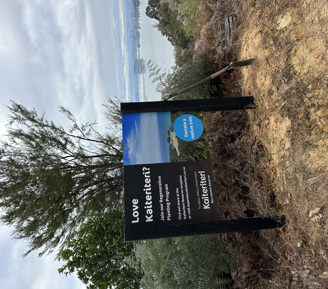 We have ongoing projects to plant thousands of natives across the Reserve, with the support of locals and our people, this includes a program to remove wilding pines. During conservation week 2023, our team will plant more than 1,000 natives in the Reserve. We would like to thank the Nelson Regional Development Agency for its support. This is a long-term plan that we hope could return the 250 hectares of Reserve to natives by 2033, subject to available funding, ask the team at the Reserve how you could help.

Better recycling, a reduction in landfill, PET & food waste
At Kaiteriteri Recreation Reserve we are committed to reducing our carbon footprint, as you will appreciate this is a long-term journey, but we have a number of projects underway;
To reduce the number of single-use cups going into landfill, we have partnered with Ideal Cups. Our Kākā Point Cafe customers will be encouraged to use a reusable cup when grabbing their favourite flat white, which will be available free of charge, or you could bring your own cup or purchase one from our store. This project has the potential to prevent more than 30,000 cups from going to landfill every year.
Coloured Glass Recycling bins are placed throughout our campsite to enable them to be efficiently recycled in Richmond. Please take an extra 10 seconds when visiting to sort your recycling, when visiting the Reserve.
Our waste food from Waterfront Restaurant no longer goes to landfill, as we have a partnership with a local farmer who collects our waste for his animals.
We are exploring options to reduce the number of drinks sold in plastic bottles in our stores, with plans for further drink stations and other alternatives.
All the milk bottles used to make coffee in Waterfront and Kākā Point Cafe, are collected by Fonterra and recycled into reusable products.
Light footprint
We encourage our visitors to help keep New Zealand's environment free of litter and rubbish. This includes food scraps such as orange peel and apple cores. We have ample waste and recycling bins across the Reserve; however, we encourage our visitors to adopt our Pack In and Pack Out philosophy and take your rubbish away with you. This includes food scraps, so make your trip easier by bringing a bag or container that you can store rubbish in, and if you see any rubbish, please pick it up, even if it's not yours.
Our team and locals volunteer for regular beach tidies throughout the year and it's so disappointing to see the litter that people leave behind, so let's keep this place beautiful by each doing our bit.
Beach Replenishment
Each year mother nature leaves her mark on Kaiteriteri Beach, washing the golden sands to the southern end of the beach and through to the estuary. Kaiteriteri Reserve provides the funding for the beach to be replenished before summer each year, moving approximately 310 tonnes of sand, ensuring that it's looking its best for the summer visitors.
Predator Free
Our voluntary predator control team led by Rod Markham, systematically works across the Reserve to protect the native wildlife with trappings lines throughout the Kaiteriteri Mountain Bike and beyond. Last year the team serviced 123 traps capturing, 11 stouts & 102 rats.